What is UL certification?
UL certification was founded by the global testing and certification organization and standard development organization UL Co., Ltd. of the United States. Since its establishment in 1894, UL has issued nearly 1,800 safety, quality, and sustainability standards, of which more than 70% have become American national standards, and UL is also the Canadian national standard development agency.
What is a power cord?
A power cord is a wire that transmits electric current. Usually the method of current transmission is point-to-point transmission. Power cords can be divided into AC AC power cords and DC DC power cords according to their use. Generally, AC power cords are wires that pass high-voltage AC power. Because of their high voltage, these wires require uniform standards to obtain safety certification before they can be officially produced. For home appliances, although the power cord is only an accessory, it plays a vital role in the use of the home appliance. If the power cord is broken, the entire appliance cannot be used. The structure of the power cord is not very complicated, but it should not be simple from the surface to see through it at once. If you study the power cord well, in some places you still need to understand the structure of the power cord professionally.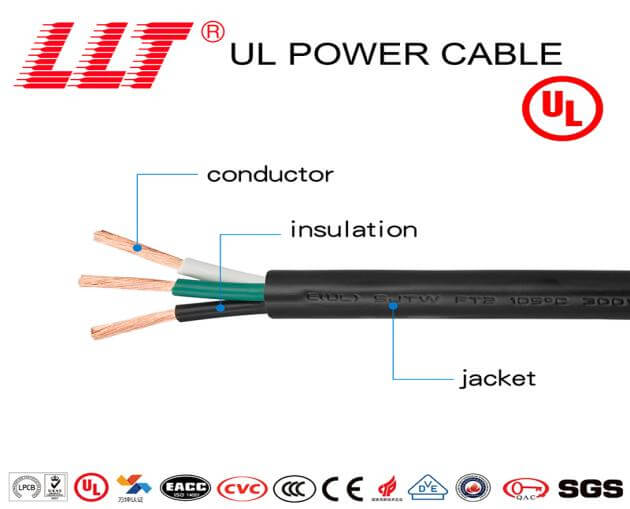 Product Range
ST series, 600V: 18AWG-13AWG (2-6 cores), 12AWG-2AWG (2-5 cores);
SV series, 300V: 18AWG-16AWG (2-6 cores);
SJ series, 300V: 18AWG-10AWG (2-6 cores)
Scope of application
UL power cords should be purchased according to different household appliances. Different household appliances use different UL power cords. Generally used in broadcasting, audio-visual equipment, instruments, computers, EIA RS232 international electrotechnical standards.
Core wire color (not mandatory)
2 cores: black and white;
3 cores: green, black, white; green, black, red; brown, light blue, green/yellow (international colors);
4 cores: green, black, red, white; green, black, red, blue. In addition to grounding and grounding conductors, other colors are allowed. (Green,Yellow/green, White: Neutral)
Product Features (SVT)
Comply with ROHS REACH directive;
Flame retardant performance meets VW-1, FT2 combustion test;
Conductor: 18-10AWG multi-core tinned or bare copper wire;
Insulator: 105℃ flame-retardant PVC insulation and sheath;
The product complies with UL62 American standard power cord;